7 Best Party Serveware For An Upcoming Celebration!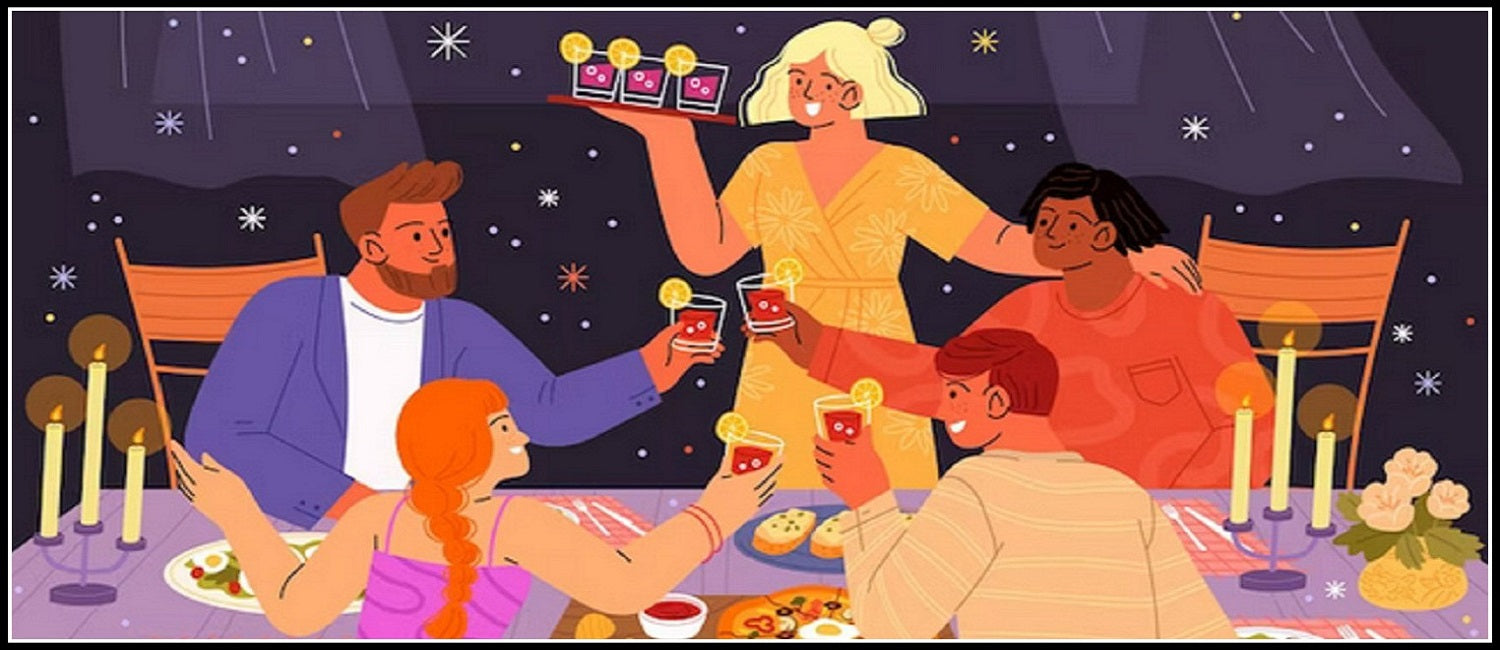 Party serveware are essential items when you host events and celebrations in everyday life. They are available in various shapes and sizes to meet individual food presentation needs. Professional catering business entities, hotels, restaurants, canteens, food stalls, etc., use them extensively. Party serveware usually features robust construction to support the weight of dishes and ensure easy transportation from one place to another.

They are typically designed to hold many party foods, including appetizers, beverages, starters, desserts, etc. Are you going to organize a significant event or celebration in the coming days and look for the best party serveware available within your budget? If yes, look at our list here:
1. Large Clear Cylinder Jar
A large clear cylinder jar is transparent party serveware, characterized by its spacious capacity and cylindrical shape. Made of high-quality plastic, it allows easy visibility of food items kept inside. The jar's size makes it perfect for storing and displaying various sweets and treats. You can use it as a centerpiece and display colorful food products during events and celebrations.
It also provides a practical storage solution for party food items such as pasta and snacks.

The careful use of the large clear cylinder jar ensures the freshness and longevity of the stored food items, enabling you to preserve dry foods and maintain their quality throughout the festival.

Its sleek and minimalistic design makes it a practical jar for all events and celebrations.

You can also use it as a party decoration.
2. Hearts Dinner Plates
The 9-inch hearts dinner plate is attractive party serveware for romantic parties, Valentine's Day, love-themed events, etc. They are designed with a heart-shaped pattern, which adds a touch of romance to any table setting. In addition, they are made from high-quality and durable materials so that you can use them for a long time.
Its size of 9 inches is perfect for serving portions of almost all appetizers, desserts, starters, salads, and other small food items on the dinner table. As a result, you can beautifully display your culinary creativity and make a lasting impression on guests.

The heart shape printed on the dinner plate is visually appealing and makes people feel happy.

The slightly raised edges help prevent spills or sauces from overflowing. In addition, it keeps your tablecloth and mats clean.
3. Fiesta Paper Bowls
If you are looking for the best party serving bowls for upcoming events and celebrations, there couldn't be a better option than the Fiesta paper balls. You can use them for serving food at parties, picnics, events, and celebrations. They are made from high-quality paper materials, making them suitable for holding different food items.
Fiesta paper bowls are available in colorful designs, which makes them suitable for almost all festival occasions.

Due to their disposable nature, they offer a convenient solution for serving meals to many guests without washing or cleaning up.
4. Police Party Cupcake Stand
The police party cupcake stand is a popular decorative and functional item that brings the excitement of law enforcement agencies to any event or celebration. Its unique design offers a visually appealing way to display cupcakes and creates a memorable experience for everyone at the party.
It is designed beautifully to look like a police car, which is entertaining for children and adults.

It is made of high-quality foam and has multiple tiers to hold cupcakes. It allows you to accommodate numerous cupcakes and create a beautiful display for different events and celebrations.

The police party cupcake stand adds a fun and interactive element to the event, allowing individuals to enjoy delicious treats while indulging themselves in the police-themed ambiance.
5. Hot Dog Paper Trays
Hot dog paper trays must be on your list if you plan to serve hot dogs to guests. It is disposable party serveware made from food-grade paper material. These party serving trays are designed in such a way that they look like hot dogs.
Hot dog paper trays will help you maintain hygiene at the dinner table and give people a pleasant experience.

The trays are extensively used in various food services such as stadiums, carnivals, fairs, food trucks, hotels, restaurants, multiple events, and celebrations.

They are disposable, which makes them more practical, versatile, and eco-friendly trays for serving hot dogs on the go.

They promise the cleanliness and easy portability of hotdogs, prompting people to use them at all parties, including hotdogs as the primary food item.
6. Bamboo Charcuterie Board
The premium bamboo charcuterie board is an eco-friendly party serving tray famous for its natural beauty and immense functionalities. It is made from bamboo and can be used to serve different types of foods to a large number of guests in a convenient manner.
The best bamboo charcuterie board on Party Glowz is popular among people because of its excellent durability and resistance to moisture.

The wholesale bamboo charcuterie board features a smooth surface, which adds an elegant touch to the dinner table.

Bamboo's natural color and texture make it look beautiful. It can display and serve snacks, fruits, meals, meats, cheese, and other food items.

Its ease of use makes it a popular choice for almost all events and celebrations where a beautiful party serving tray matters.

They include rope handles, allowing you to use them conveniently.
7. Wooden Serving Scoops
Wooden serving scoops are good-looking and valuable utensils for serving food items on dinner tables and during events and celebrations. They are made from high-quality hardwoods and are famous for their excellent beauty and durability.
Wooden serving scoops are widely used at marriage parties and other events. You must wash and dry them thoroughly after each use to prolong their life.

They look elegant and add a touch of elegance to marriage parties and other events.
Party serveware play an essential role in events and gatherings. They offer practical and efficient ways to serve food items to guests during events and celebrations and win their hearts with creativity. They are available in various shapes, sizes, and designs, conveniently catering to party themes and occasions.
The proper use of the party theme serveware makes the food look visually appealing, contributes to the overall ambiance and organization of the party, and lets individuals enjoy a smooth dining experience. So, whether you are organizing a casual backyard barbecue, a corporate cocktail party, or any other event, remember to use party serveware - party serving trays, bowls, jars, plates, cupcake stands, scoops and serving sets. These are available on Party Glowz. You can purchase them in bulk and enjoy free shipping and a 5% discount with coupon code PARTYGLOWZ5.
Jun 30, 2023

Category:

Blogs
Comments: 0