6 Unique & Innovative Ways To Use A Cowboy Boot Mug!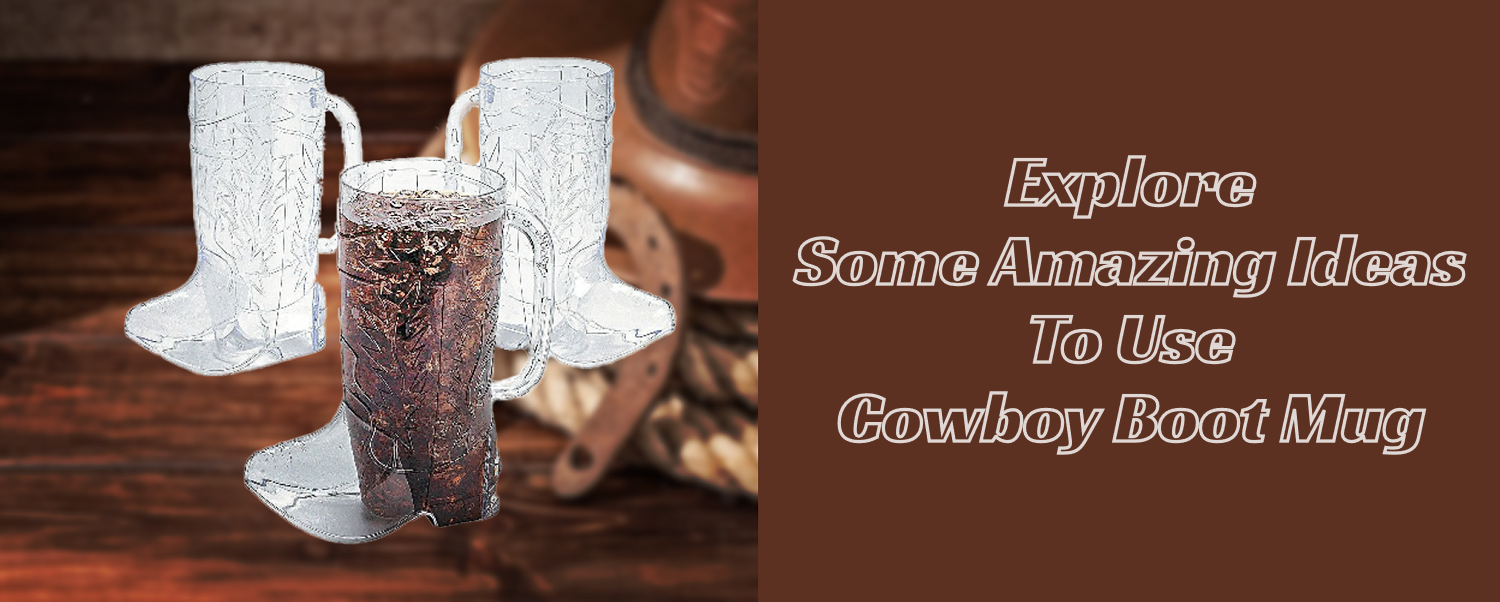 Organizing a party or a get-together at home requires a lot of effort which you cannot undermine if you are doing everything on your own. You have to plan things in advance to make appropriate arrangements and avoid last minute hassle. If you are not an expert and have arranged some last minute parties then you must be knowing that it is not easy to list down everything that would be required in proper proportion. The one who organizes everything ends up overestimating one thing or underestimating another. I have been through the same and have bought bulk quantities on plastic cowboy boot mugs. The design of the mugs is amazing which made me think out of the box to use them for the next party. I saved so much money by using the following ideas which I came up with to throw an amazing house party for my friends and family. 
The Clear Plastic Cowboy Boot Mug is high in quality and you can use them in so many different ways. Be imaginative and if you happen to use the mugs in a unique way then let us know here. However, for now you can easily explore some amazing out of the box ideas to use your high quality and durable cowboy boot plastic mugs. 

Serving Drinks
Well, this one goes without saying and you all know that you can serve drinks in the mugs. However, the aesthetics of the cowboy boot ensures that your kids would love to enjoy even the healthy smoothies and drinks which do not taste that good. You can paint the names of the kids outside the mugs to let them know which one to pick.   
Playing Games
You can make your own rules and let your kids indulge in some indoor or outdoor games using the cowboy boot plastic mug. You can stack these and aim them with a ball or you can play beer pong using the mugs instead of the classic red American party mug. You can even coin other games depending upon your kids liking. If you happen to come up with some exciting games then please share your ideas in the comment section below. 
Gardening
The spare clear Boot Shaped Plastic Cups can be filled with soil and can be kept in the garden. You can make your kids put a seed in the soil and water them everyday to see a plant come out of it in a few days. They would be thrilled to do this project and you would be able to teach them the art of gardening without having to spend a lot of money on pots and plants.

Decor Purpose
You can use these for decorating the porch, entrance or window sill in your house. Just grab a glow stick or an LED string light and put it in the cup from the top or bottom side by drilling a hole. You can make this a project and ask your kids or friends to use the cowboy boot mugs in order to create a decorative piece. 
Amplify The Music
If you are indoors and do not have a Bluetooth speaker then you can always use these mugs and place the smartphone inside to amplify the sound of the music in order to enjoy with your friends and family. You can even drill small holes on the side and put your phone inside to save it from water, sand or dust during outdoor use. 
Molds For Ice Cream
If you would like to make some popsicles at home but do not have proper molds then do not worry as these Cowboy Boot Mugs can double as molds for ice cream. You would be thrilled to see the results and your kids would love to enjoy the homemade ice cream popsicle which you can make in a cost effective manner in any color and any flavor of your choice. These are freezer safe and durable so your popsicles would turn out nothing but amazing. 
Aug 26, 2022

Category:

Blogs
Comments: 0