7 Glow Stick Accessories Traits You Must Know!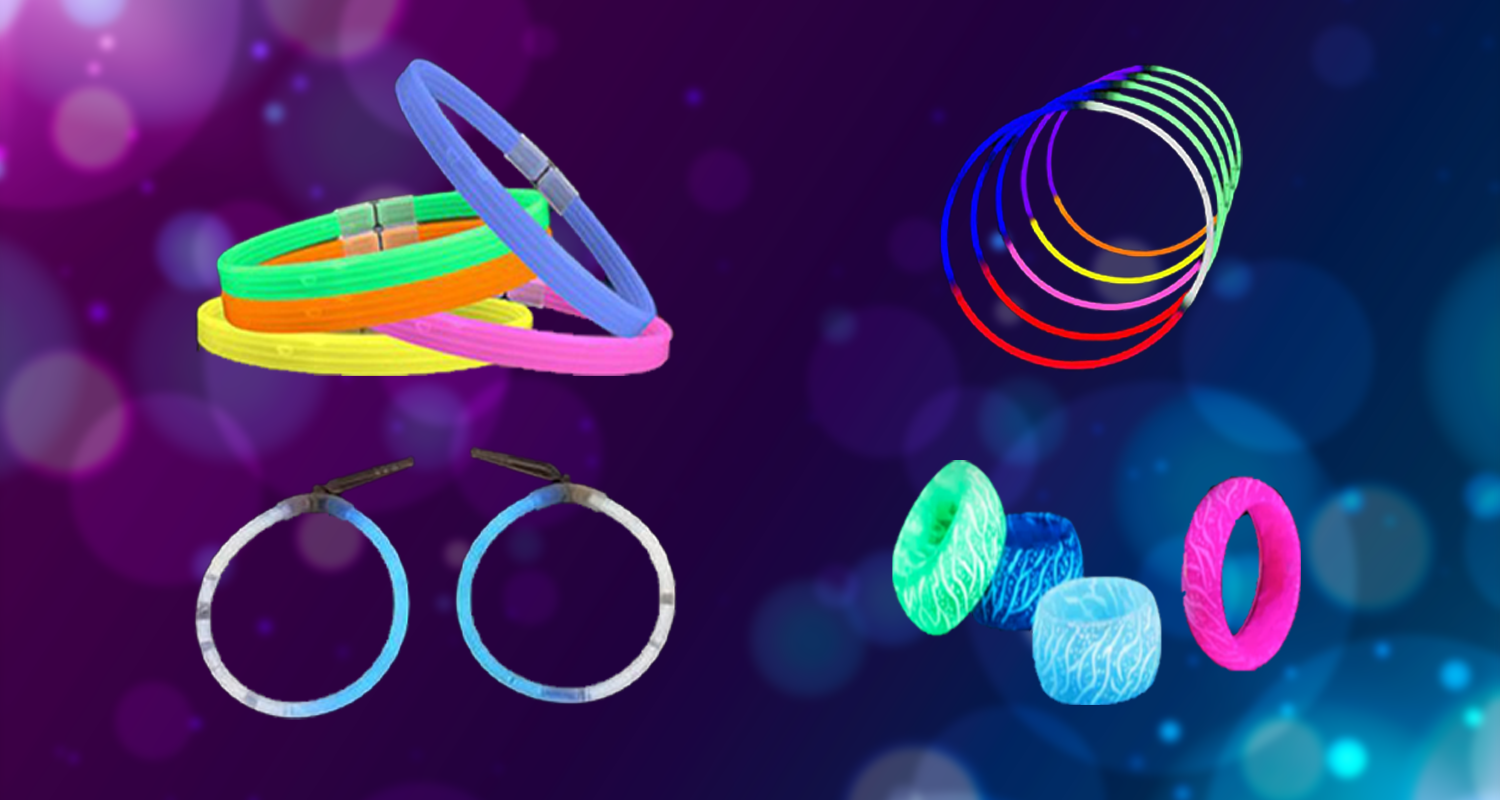 There are infinite accessories and party products in the market but there is nothing like a glow stick. Glow sticks are flexible so they can be used to make a variety of items for accessorizing, decor purposes and emergency use. The glow products are high in quality, waterproof, safe to use, durable and light in weight. Buy exciting glow sticks products and accessories as per your convenience and requirement. Let's explore about glow sticks and their traits as well as operational use, keep reading: 
How Do You Activate A Glow Stick Necklace?
The glow sticks do not glow when they are delivered to the customers. They need to be activated which is done by bending the glow stick in order to break the inner vial and further shaking it in order to combine the chemicals in the glow stick which act as catalyst to start the chemical reaction. The glow sticks are then turned into Glow Stick Necklaces and Glow Bracelets & wristbands using connectors. 
Where Can You Use Glow Necklaces?
Glow necklaces are available in multiple designs, colors and sizes. You can use these for patriotic events, halloween, Christmas, as birthday party favors, for carnivals, night sports events, camping and more. You can choose the designs suitable for the user as per the event he or she wants to attend. These can be used for long hours as they are light in weight and soft to touch. 
How Many Colors Are Available In Glow Sticks?
Glow In The Dark Sticks can be made in any color possible and they are available in exciting colors of red, blue, orange, green, yellow, pink, white, etc. Due to a wide range of color options the glow sticks can be used for glow and other colorful theme parties. These are also available in bi or tri color format and the multi-color ones are also very popular among the customers.

How Long Do Glow Stick Accessories Last?
Glowing stick accessories glow for a short period of time typically ranging for a few hours however they can last for a really long time and can even be worn without the glow feature as they are aesthetically pleasing. The larger the glow stick used to make the accessories, the longer its glow would last.

Can You Recharge A Glow Stick?
No, it is not possible to recharge the glow sticks as once the reaction starts, there is no way to stop it and the glow would last as long as the chemical reaction remains. The phenomenon is known as chemiluminescence and it can be slowed down with the decrease in temperature but it cannot be stopped altogether. 
How Do You Make Glow Sticks Last Longer?
There is no specific way to make the glow sticks last longer in normal conditions. However, you can keep them in a cold environment as that would slow down the chemical reaction which is responsible for the glow. However, low temperatures would also decrease the brightness of the glow stick. The glow earrings and glow rings would glow dimmer if you wear them and activate them in a cold environment. 
How Do You Make Glow Sticks Glow Brighter?
If you wish to make your Glow Jewelry like necklaces, rings, earrings and bracelets illuminate brighter then simply wear them in a hot environment. The increased temperature would further enhance the chemical reaction of the glow sticks increasing the glow of the accessories. 
How Long Do Glow Sticks Last In Storage?
The Glow Sticks need to be stored in a cool and dark place. They last from 12 to 18 months in storage when they are not wrapped in foil. However, the shelf life can be doubled if they are wrapped properly in foil. The glow sticks last for 3 to 4 years when they are wrapped in foil and they can be taken out to be bent and shaken in order to activate the glow. 
Conclusion
Glow sticks are versatile and can be used to make any kind of accessory and decor item. The glow sticks are high in quality and they can last for a long time. You can explore the various colors and sizes in order to get the most amazing Glow Stick Accessories like rings, earrings, necklaces, bracelets & wristbands, eyeglasses, bunny ears & head boppers. These accessories can be worn by kids as well as adults to weddings, theme parties, carnivals, concerts, bachelorette, baby shower, bridal shower and more. 
Aug 08, 2022

Category:

Blogs
Comments: 0