All About Cowboy Boot Mugs!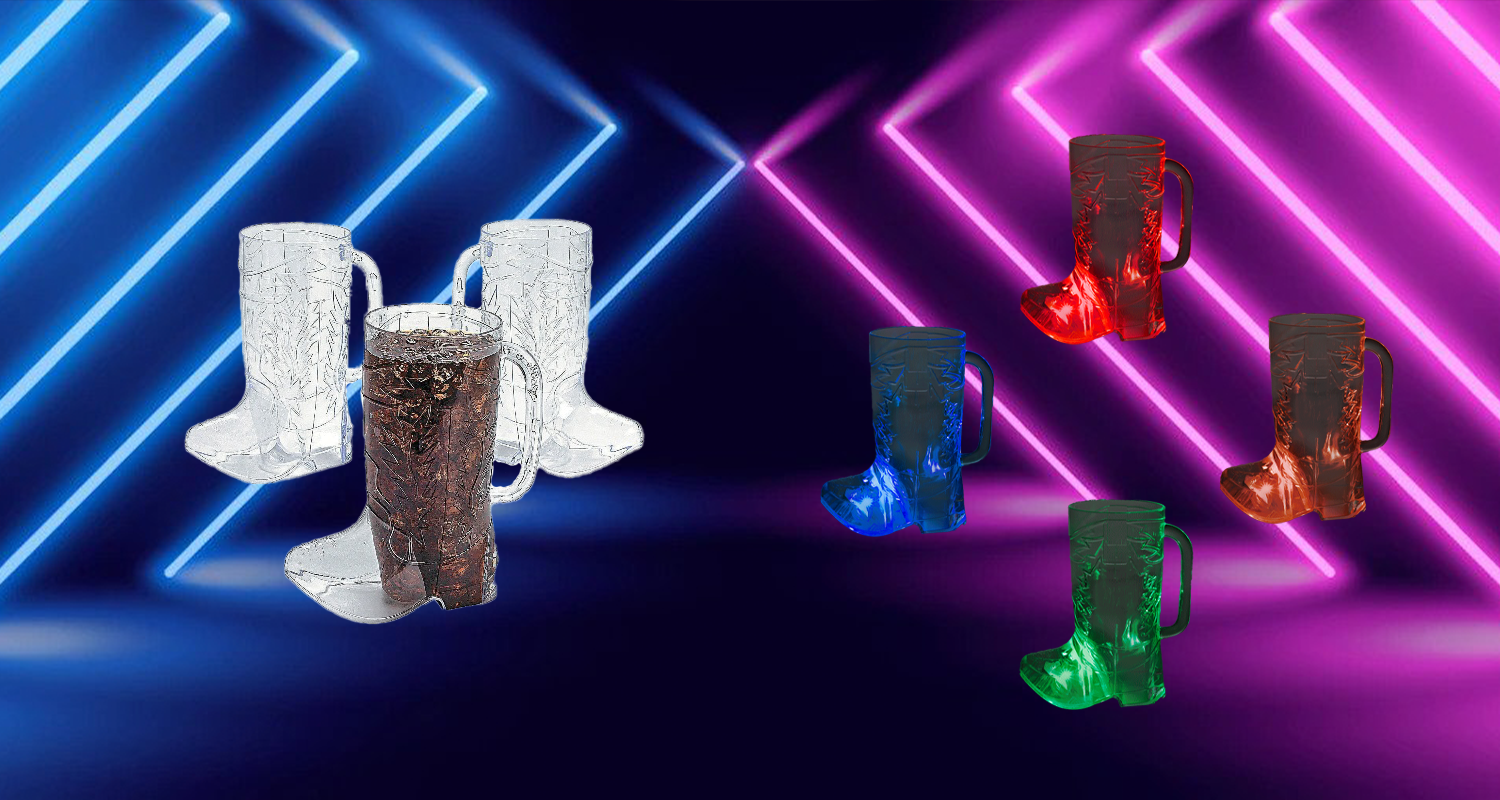 Food is an essential part of everyone's culture and parties are incomplete without snacks and drinks. Drinks can be enjoyed in various types of mugs, cups, glasses and flutes. There are so many materials used to manufacture mugs like ceramic, glass, stainless steel, melamine and more. There are so many designs in which these mugs are available however the most trending one now-a-days is a cowboy boot mug. Let's explore about cowboy boot shaped mugs:

What Is A Cowboy Boot Mug?
A Cowboy Boot Cups are mugs in the shape of a cowboy boot with a carving design on them. They come with a handle and the beverage can be filled only till the bottom of the mug and not in the toe part of the mug. Like cowboy boots, these cowboy boot mugs are also a rage among the people who like to host a lot of theme parties for their friends and family. 
What Are Cowboy Mugs Made Of?
Most people like to have disposable cutlery for a party as it is easy to store before use and easy to dispose of after use. Most disposable mugs are made of foam, paper and plastic. These cowboy mugs and cups are made of high quality food grade plastic which is sturdy and durable. Boot Shaped Plastic Mug has a sturdy handle which ensures that it can be used by the guests for any kind of beverage. 
Do Cowboy Boot Mug Light Up?
Well, it depends upon the type of mug you choose to buy as light up and non light up versions are available. The cowboy boot shaped mugs with LED lights in them light up with the press of a button. LED Light Up Cowboy Boot Cup include AG13 batteries which come installed in them. There are single and multi-colored lighting options and the lights illuminate in various color modes.  
What Are The Various Modes In Which The LED Cowboy Boot Mug Lights Up?
The LED Cowboy Boot Cups or mugs light up in eye-catching modes with the press of a button. The various modes are - fast flash, slow flash, fast blink, slow blink, steady light and more. You can change the modes with the press of a button. Plastic cowboy boot cups are transparent and the light can be seen beautifully through them. 
4 Types Of Theme Parties In Which Cowboy Boot Mugs Can Be Used
Ranch Theme Party
Since cowboy boots are associated with cowboys who work in ranches, these mugs can easily be used for a ranch theme party. You can enjoy your favorite drink with friends and family in these high quality boot shaped plastic cups. 
Cowboy Theme Party
If the theme of your party is cowboy, then the guests would most likely dress up with LED Cowboy Hats and cowboy boots so you better serve them drinks in these cowboy boot mugs which are durable and aesthetically pleasing. 
Boot Theme Party 
The boot theme party can have these amazing cowboy boot shaped mugs to serve cold beverages of any kind. These mugs would become a hit among your guests who can enjoy their drinks while changing with the modes.


LED Theme Party 
If you wish to set up a glow and light up bar for a party then these cowboy boot mugs can be used. The mugs light up brilliantly in exciting colors and they can be used along with other light up products for an LED theme party. You can even light up party favors for all the guests which they can wear and get beautiful pictures clicked to upload on social media. 
Conclusion
If you are looking for disposable theme products which can be used for house parties then these Cowboy Boot Shaped Mugs are the best. These mugs can be used for any kind of beverage so these can be used by kids as well as adults. The cowboy boot mugs are high quality and durable as they are made of food grade plastic. Buy these in bulk on high discounts without having to pay any hidden charges or shipping fee.  
You Can Explore More:
4 Trending & Aesthetically Pleasing Beer Steins For The Next House Party!
6 Unique and Innovative Ways to Use a Cowboy Boot Mug!

Jul 26, 2022

Category:

Blogs
Comments: 0